The Rotary Club of Nelson has always been fortunate to have a strong group of medical professionals within its membership. This has included specialists, surgeons, obstetricians/gynaecologists, general practitioners, a dietitian, nurses and a pharmacist.
Proud Father Nursing a Newborn
Access of the community to quality health care in Nelson is excellent as the region attracts well qualified health professionals wishing to enjoy the Nelson lifestyle and weather. It also means the community has access to some specialist services that would not otherwise be available in a city of Nelson's size and the Nelson Hospital has had a great reputation in delivering services.
Throughout the years, a number of Club members also took on regional and national roles in the health care system and two were recognized nationally with conferral of National Honours.
Doctor Herbert John Hall Hiddleston
Dr HJ Hiddlestone with two other members who founded Trafalgar Probus
Doctor Herbert John Hall Hiddleston (known as Dr John Hiddleston) came to Nelson as a Specialist Chest Physician in 1954, after a stint gaining experience in the UK in hospitals in Edinburgh, London and then a cardiothoracic hospital in South Wales. He joined the Rotary Club of Nelson in 1956 and remained a member until 1968.
He was appointed as Medical Superintendent of Nelson Hospital in 1961 and remained in the role until he was shoulder tapped to take over the troubled Southland Hospital Board as Superintendent-in-Chief in 1968. A year later , he joined the Health Department, going on to become the Director General of Health in 1973, a post he held for 10 years.
During his tenure, as Director General of Health, he was responsible for licensing the first abortion clinic in Auckland in 1975, restructuring hospitals and health boards, legitimizing acupuncture as a treatment option, lobbying for increased spending on public health campaigns and health research and lobbying for higher duties on tobacco and alcohol to pay for the increased spend.
He worked with seven Ministers of Health and on his retirement said:
"They all have different attitudes, and getting a new minister is a bit like a chap getting a new girlfriend."
He also held the view that individual conduct and lifestyle were as critical to national health as anything the state could prescribe. This was summed up by his comment:
"Health is not something you get; it is something you do."
During his time as Director General, he was awarded the Queen' Silver Jubilee Medal as well as a CMG (Companion of St Michael and St George) honour in recognition of his service to Health in New Zealand which sat alongside a number of professional honours and acknowledgements.
When he left the role of Director General, he took up a position with the United Nations as Director of Health for the UN Relief and Works Agency where he spent 5 ½ years with responsibility for Palestinians in Lebanon, the Gaza Strip, the West Bank, Syria and Jordan. This role tested him in ways he could not have imagined and summed the situation up as being a "miasma of hopelessness, helplessness and oppression."
When he returned to Nelson in 1988, he devoted his retirement to a great deal of voluntary work both directly as an office holder of charitable organizations'. He rejoined The Rotary Club of Nelson in 1996 and continued his involvement until his passing in 2008.
John was a Rotarian for 50 years with 4 years in Invercargill and 13 years as a member in Wellington as well as his time Nelson and was president of all three clubs. He was one of three Rotarians who " sponsored" the establishment of Trafalgar Probus in 1997 and was it's first President. Trafalgar Probus club is today 25 years old and Nelson/Tasman's largest Probus club.
Jenny Black
Jenny Black-receiving the NZ Order of Merit - 2014
Jenny Black is another former member who had the distinction of being the first female President of the Rotary Club of Nelson, which appropriately was in 2001/2 at the start of the new millennium. Jenny came to Nelson in 1982 when she was appointed as a dietitian at Nelson Hospital. She continued in that role for 10 years before she moved into a health-related community promotional role which she held for a further 8 years. She started doing work as a consultant in 1994 and joined the Rotary Club of Nelson as a member in 1995. In 2007 she was elected to the Nelson Marlborough District Health Board and became the Chair from 2010 for the following 12 years. She has said:
"It is hard to provide all that is needed from the public purse".
She also took on a number of other governance roles related to health which included the chair of "All DHBs for New Zealand" from 2014 and also the Care Foundation Charitable Trust where she is still a director.
She was named in the Queen's birthday honours list in 2014 when she was awarded the New Zealand Order of Merit for services to health.
Dr Bruce Kay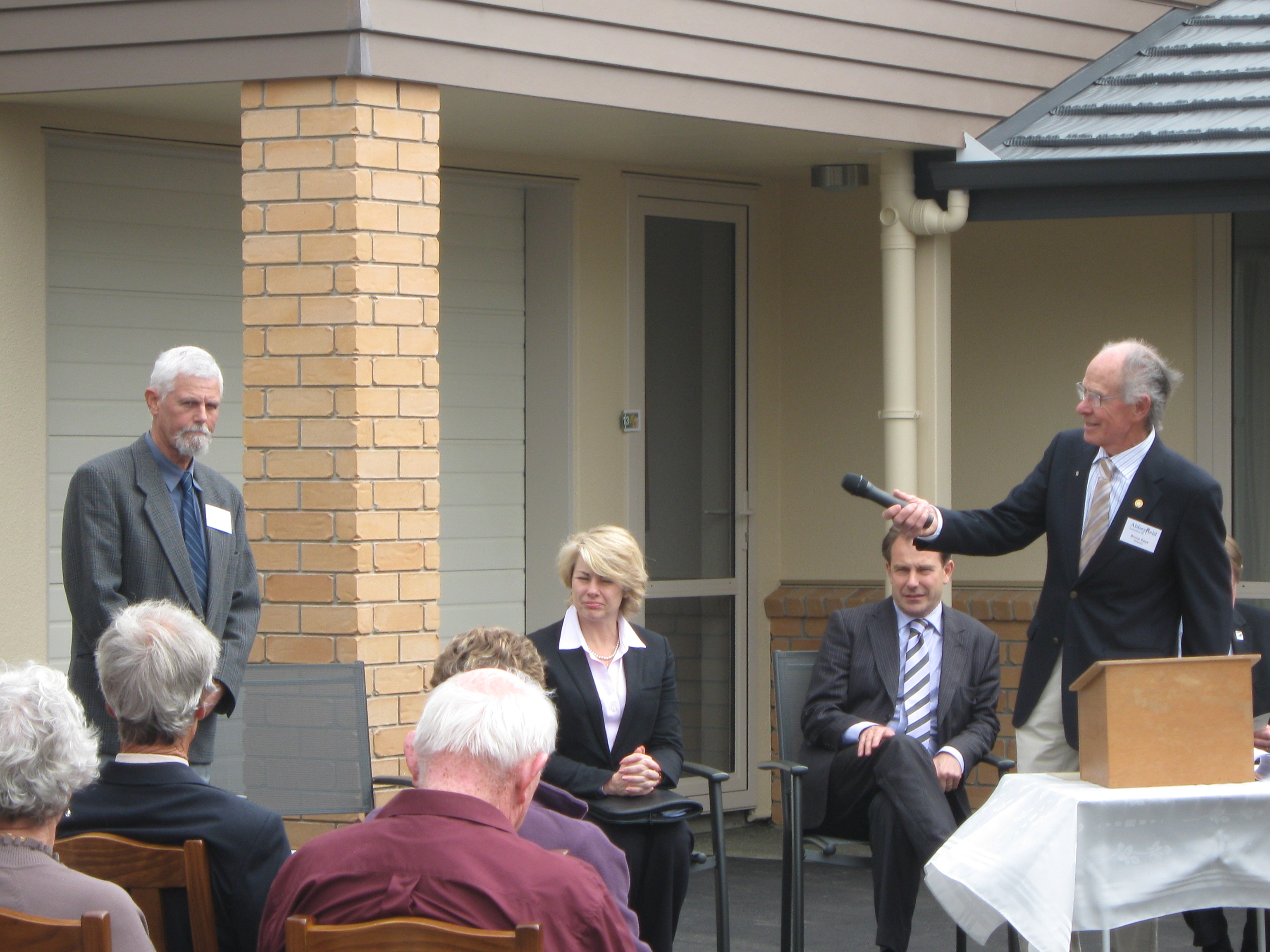 Dr Bruce Kaye speaking at opening of Abbeyfield house at Mata Close Tahuna 2010
Dr Bruce Kay spent most of his working life as a General Practitioner in Nelson until he retired in 1998 continuing his service as a Cremation Referee until 2020. Bruce initially joined the Rotary Club of Nelson in 1969 and then after a period of absence rejoined in 1979. He has developed over the years as the Club's champion of the Polio plus campaign which is Rotary International's partnership with the Bill & Melinda Gates Foundation and the World Health Organisation which has been largely successful in eradicating polio worldwide.
Abbeyfield Housing was introduced in New Zealand in 1991/92 and championed by Wakefield GP Dr Ted Bassett, having encountered the concept when he went to the UK to explore retirement home models. A steering group was formed, and Dr Bruce Kaye represented the Rotary Club of Nelson as an observer. Abbeyfield had already started in Australia, with ongoing support from Rotary in Australia, and it was expected this would be a good fit with Rotary across New Zealand.
The Abbeyfield Model provides an affordable option for assisted living by providing studio rooms with ensuite bathrooms for seniors 65+ years old who are still fully capable but otherwise would be living alone. The houses have a communal lounge and kitchen facilities with a housekeeper on site to cook nutritious meals and purchase groceries. Rents are set at an affordable level so that they can be reasonably paid within Government Superannuation levels and there is no requirement for them to contribute capital. Bruce says:
"The concept provides a great option for single people with little or no family support who otherwise can end up lonely or isolated with detrimental effects on their health. It is for both women and men however statistics show a strong correlation between depression and suicides in males, over 65, who are living alone due loss of a partner. Women are more inclined to seek help and support."
Bruce has remained involved for the past 30 years including Chair of Abbeyfield Society Nelson then Chair of Abbeyfield New Zealand from 1999 to 2004. A Rotary District Governor has also been appointed as a Director of Abbey field NZ for 27 of the past 30 years so that, as new houses are established, the relevant Rotary clubs can help in their establishment.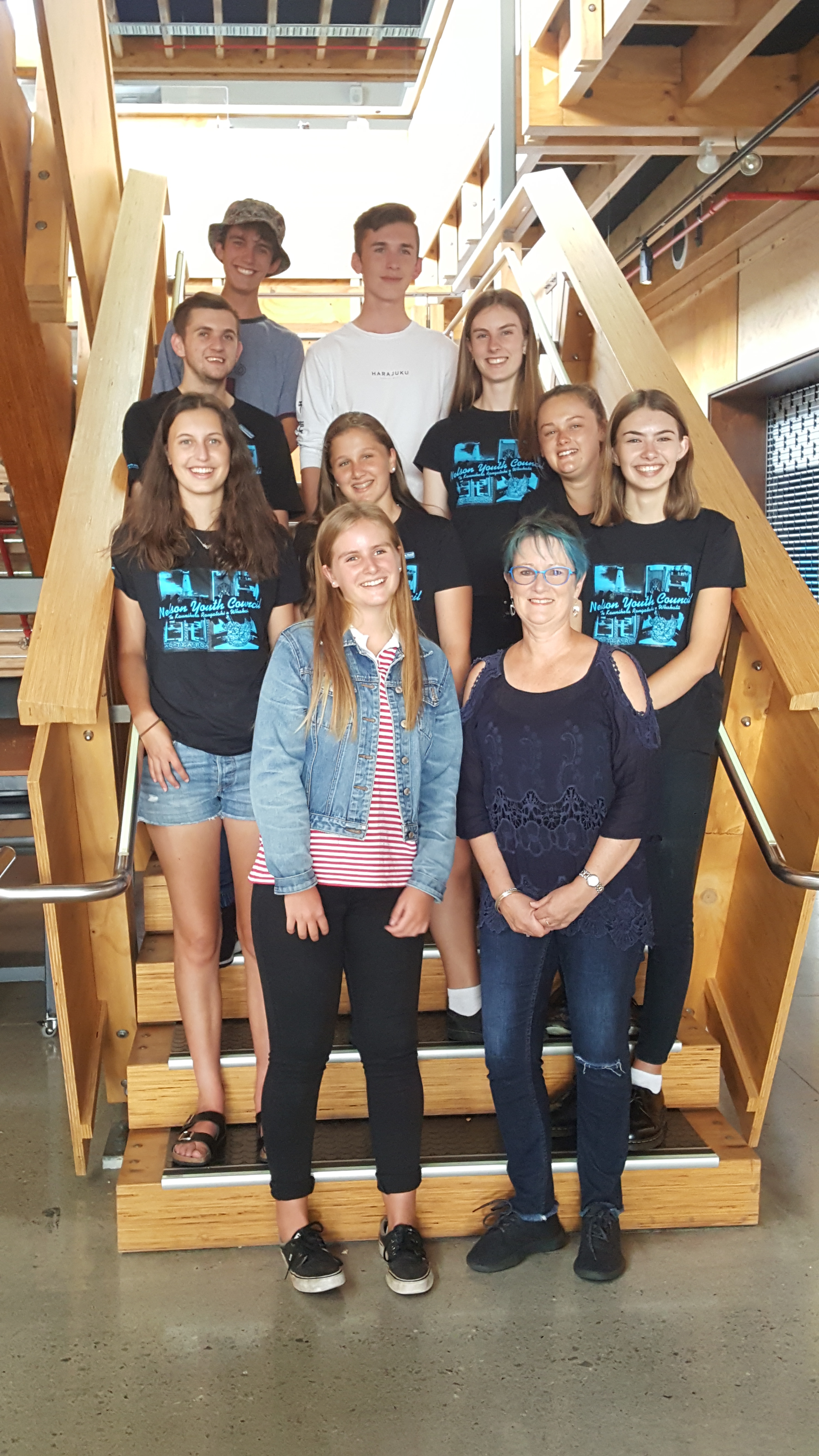 Volunteer Helpers for Suicide Prevention Programme
To date, there have 14 Abbeyfield houses built in New Zealand of which 4 are in the Nelson/ Tasman Region (this includes one in Tahunanui and one in Stoke)
The first house in St Francis Way ,Stoke was completed in 1993 with the one at Mata Close in Tahuna opened in 2010.
The Mata close Committee overseeing the development was chaired by Bruce, with the Rotary Club of Nelson also providing a grant towards the capital raising and doing some of the landscaping.
Our membership make-up has meant that the Rotary Club of Nelson is aware of most causal factors that have affected the health and wellbeing outcomes for those living in Nelson city and the region. Early examples were the impacts on the community from events such as the polio epidemic of 1925, the great depression of the 1930's and the 2nd World War.
Often Rotary has been working before the "top of the cliff" as major events impact including setting up a special committee, during the "Great Depression" of the 1930's to assist the "Smith Family Charity" which provided support to disadvantaged children and families. It also assisted the Labour department, in searching out job opportunities for the young and supported other charity groups dealing with the hardships of the day.
In 1935, the club helped establish the Nelson branch of the Crippled Children's Society (now known as NZCCS) with the club and Rotary nationally acknowledged for their contribution on panels on the CCS offices at 65 Trafalgar Street.
During the war the club focus was on gift parcels for those going to fight in the war and whilst away overseas as well as raising funds for the war effort and support of families at home.
During the 1930's and 40's the club also identified the isolation of rural living which was leading to division between farming families and city and town residents. The club developed programmes to bridge that divide and to reduce the impacts of rural isolation including through collecting and distributing magazines and newspapers to farming families.
The club understood that education and poverty among low-income groups leads to bad health outcomes and hence there has always been a focus on helping organisations who help young people and families.
In the 1950's, programmes that focused on youth were expanded including funding support for the YMCA and the scouting movement. The latter included helping to build the Robert Kingsford Scout Hut in the Maitai valley. Rotary also kept in touch with families facing difficulties through Birthright and Heritage which both focused on single parent families.
These initiatives later lead on to the club helping set up the King George V Health Camp in Marsden Valley where selected children, who were suffering from health difficulties and/or were malnourished, were provided remedial care under a six-week programme healthy food, fun and fitness to improve their health and well-being. In 1953 the club built a swimming pool for the camp.
Attending the King George V Health Camp
In 1956 it provided funding to support the construction of a chapel at Nelson Hospital.
As the club expanded, From the 1960's,it was able to more directly support health initiatives including contributions to a cancer research fund, then in the 1970's funding support for a heart machine (1970) and an artificial kidney machine (1971) for Nelson Hospital. In 1973 it helped fund remote monitoring equipment for intensive care and a gastro-intestinal fiberscope.
From 1976 -1986 Rotary clubs across the Nelson district combined with the Police force in the area on the "Super Pod" project which was to build motel units at Burwood Hospital, Christchurch for the use of families who had to travel to be with patients at the hospital.
It also became involved in the building of Rotoiti Lodge (1986) to provide outdoor education for secondary school pupils across the "Top of the South" to try and encourage high school children to spend more time enjoying the great outdoors.
In the 1990's the focus again came back to children with a significant grant to child health research in 1996.
It was the late 1990's when Big Brothers Big Sisters was set up for support of children from single parent families. Grants have been provided annually to help fund activities and/or matches.
Since the beginning of the new millennium there has again been funding grants and support as follows: